Saturated Buffers
Saturated Buffers utilize the organic matter in the soil profile of a vegetated filter strip located between a field edge and a stream to remove nitrogen from tile transported water. To accomplish this a control structure is used to divert a portion of the tile flow into a distribution tile that runs parallel to a stream. To view results from ADMC saturated buffer research please click here.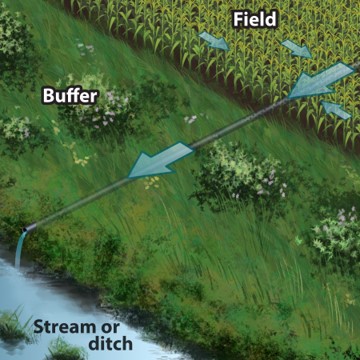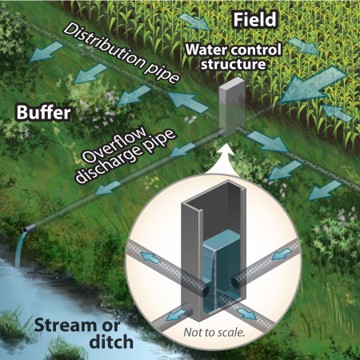 Setting the stop boards in the control structureNRCS/SWCS photo by Lynn BettsPlowing in the distribution lineNRCS/SWCS photo by Lynn BettsRecently installed distribution line in a buffer to be seededNRCS/SWCS photo by Lynn BettsNew growth at saturated buffer siteNRCS/SWCS photo by Lynn Betts
Location
Saturated buffers typically treat drainage systems operating from a single field and on 6 – 12 inch mains. To meet NRCS standards, the site must meet the following:
At least 30 feet of perennial vegetation
Stable stream banks
At least 1.2% soil organic matter
No sand lenses or gravel layers in along the length of the distribution line
Footprint
The control structure sits on the main near the field edge in the the filter strip. Typical distribution lines run 5oo to 1,000 feet.
Performance
Recent ADMC monitoring showed that saturated buffers removed an average of 33% of the nitrate load. Research by Iowa State University with the USDA-ARS showed saturated buffers removed an average of 44% of the nitrate load.
Economics
$
0
Average installation costs of 7 ADMC monitored saturated buffers was $3,600
$
1
Practice cost per pound of N removed
Financial Assistance
Saturated buffers are eligible for financial assistance through the NRCS EQIP Conservation Practice Standard 604 as well as through the FSA CLEAR initiative. Your state may also have state or private funding available. For more information, please refer to the ADMC Financial Assistance page.